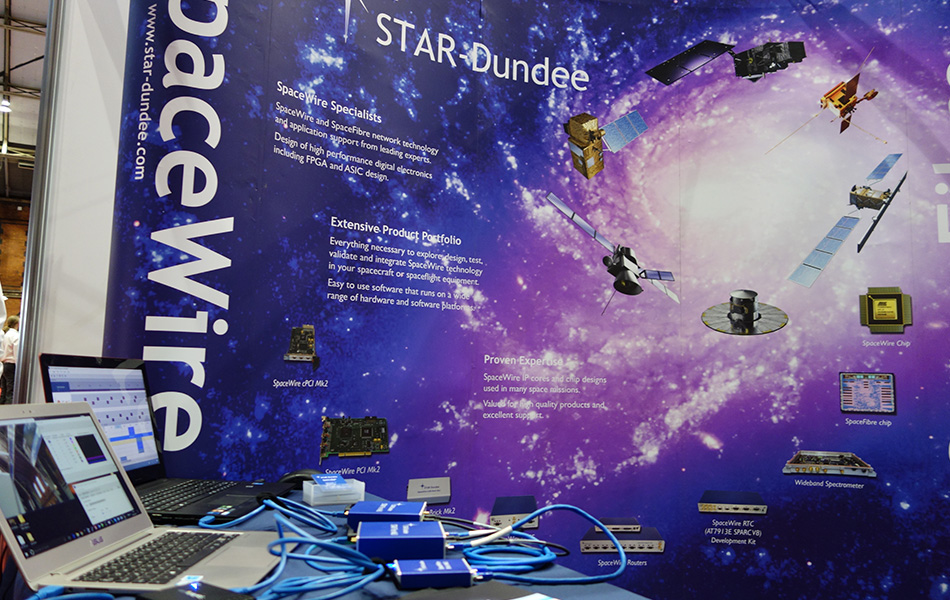 This week STAR-Dundee will be attending Data Systems in Aerospace (DASIA), Gothenburg and the UK Space Conference, Manchester.
STAR-Dundee at DASIA
STAR-Dundee are attending DASIA from the 30th May to the 1st June, where we will be demonstrating the SpaceFibre Multi-Lane interface implemented in the radiation-tolerant Microsemi RTG4 FPGA as well as the SpaceFibre Router PXI card. We'll also be demonstrating the new STAR Fire Mk3 hardware and SpaceFibre link analysis software.
Our CEO Steve Parkes will present on SpaceFibre: Capabilities, Components and Kit on Wednesday the 31st of May at 10:30 (CEST) in room B.
For the full programme please visit: http://eurospace.org/dasia-2017.aspx
STAR-Dundee at the UK Space Conference
STAR-Dundee are attending the UK Space Conference 2017 from the 30th May to the 1st June, where we will be available at booth B15 in the exhibition area. From here we will be demonstrating our SpaceWire and SpaceFibre equipment including our new STAR Fire Mk3 unit.
The STAR Fire Mk3 can transmit and receive SpaceWire and SpaceFibre traffic and is also a SpaceFibre Link Analyser. SpaceFibre traffic can be transmitted and received either from a host PC or using built-in advanced data generators and checkers. Powerful software allows SpaceFibre traffic captured by the STAR Fire Mk3 to be displayed in multiple views with varying levels of detail. As SpaceFibre is compatible with SpaceWire at the network level, the STAR Fire Mk3 can also be used to transmit and receive SpaceWire traffic over a SpaceFibre link.
More information on the UK Space Conference 2017 is available here: www.ukspace.org/event/uk-space-conference-2017
PANGU at GNC 2017
The University of Dundee will be exhibiting PANGU – Planet and Asteroid Natural Scene Generation Utility at the 10th International ESA Conference on Guidance, Navigation & Control Systems between 29th May to the 2nd June 2017 in Salzburg, Austria.
Find out more about PANGU here: https://www.star-dundee.com/products/pangu-planet-and-asteroid-natural-scene-generation-utility