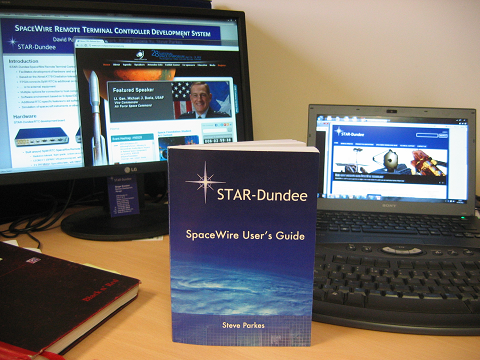 STAR-Dundee are excited to be attending the 28th National Space Symposium in Colorado Springs, USA, over the 16th-19th April.
We will be running live demos of our newest development equipment including our most recently released Interface board the SpaceWire PCIe and two soon-to-be-released products: SpaceWire EGSE, a highly capable test device designed to rapidly emulate or stimulate instruments and other SpaceWire enabled units, and SpaceWire RTC Development Kit; our SpaceWire Software Development Environment supporting our new SpaceWire RTC Unit based on ATMEL's AT7913E, a flight ready LEON based IC for interfacing on-board instruments. Watch our website for announcements on these products.
Come and visit us on our stand and you will receive a copy of the first printing of our SpaceWire User's Guide; our guide to the SpaceWire Standard that gives practical information on designing and implementing SpaceWire systems, and also describes the origins of the Standard and some early Missions SpaceWire flew on. The SpaceWire User's Manual can be read on-line in our SpaceWire Knowledge Base.
We will be exhibiting on booth 1515 in the Pavilion so we hope you can join us for what promises to be an interesting 4 days of seminars and exhibitions, networking and events.