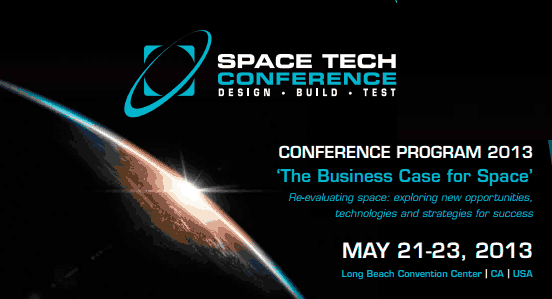 Leaving a late-May snow fall behind in Scotland STAR-Dundee headed to the sun of Long Beach, California, to exhibit and present at the 2nd SpaceTech Expo.
Despite the depleted attendance due to the continuation of budget sequestration within the USA, the quality of visitors to the booth was still high.
The Open Forum gave us the opportunity to present "SpaceWire Technologies deliver multi-gigabit data rates for on-board Spacecraft" a brief introduction to SpaceFibre and a progress update on the developments and projects already adopting the gigabit network capability of SpaceFibre. This was particularly timely as, not only had the SpaceFibre IP core just been released to the fourth company to enter the SpaceFibre Beta program, but following on from the copper cable testing SpaceFibre had just been successfully tested running at 2.5Gbits over a 100m fibre optic connection.
Check our website for more details on SpaceFibre and the first available products: the SpaceFibre IP core and the diagnostic interface unit STAR Fire; the first product aimed at early SpaceFibre adoption.