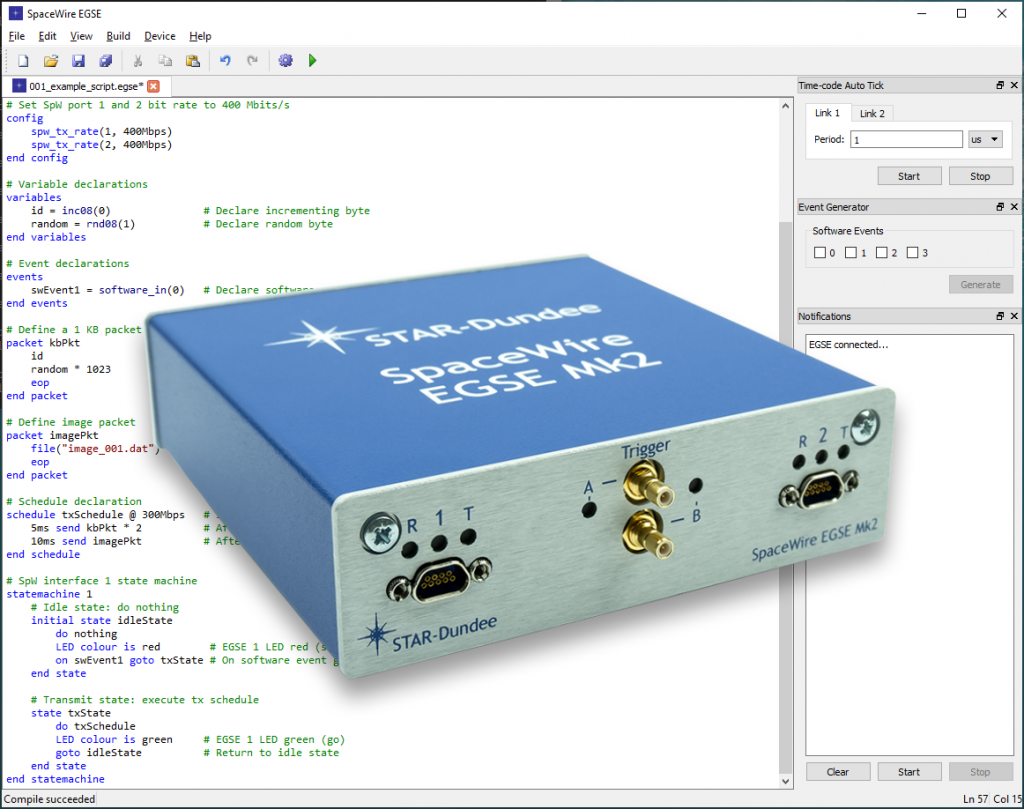 A new version of our SpaceWire EGSE and Device Simulator has been released! Like its predecessor, the SpaceWire EGSE Mk2 can be used to very quickly create SpaceWire instrument and equipment emulations. This is done using a scripting language designed specifically for SpaceWire applications.
The SpaceWire equipment behaviour required can be quickly and accurately defined in a script. The script is then compiled on a host PC and the resulting configuration file loaded into the SpaceWire EGSE Mk2 unit. The EGSE Mk2 then immediately begins to operate as defined in the script, functioning independent of software, resulting in real-time performance and precise emulation.
The SpaceWire EGSE Mk2 supersedes the original SpaceWire EGSE. It now supports SpaceWire link speeds up to 400 Mbit/s (previously 200 Mbit/s); the on-board memory in which packet data is stored has been increased in size to 512 MB (previously 128 MB); and a USB 3.0 interface (previously USB 2.0) is now used to connect the unit to a host PC. Compared to the original SpaceWire EGSE, these improvements mean traffic can be transmitted and received at higher link speeds; a larger quantity of pre-defined packet data can be stored in memory; and compiled scripts can be loaded into hardware faster.
More information is available on the SpaceWire EGSE Mk2 product page.