Following considerable development, we are delighted to announce that our new website is now live!
The new site has separate sections for SpaceWire and SpaceFibre, where we hope to be able to answer all of your questions on these technologies. We will be adding more content in future and are always happy to receive suggestions for improvements. Please contact us if you have any suggestions, questions or encounter any issues with the site.
We are grateful to Dundee-based Graphic Design and Web Development team Kin for their efforts on the site and the design of our other marketing materials. With Kin's assistance, we have been working to adopt a consistent theme across our website, brochures, banners and other marketing material.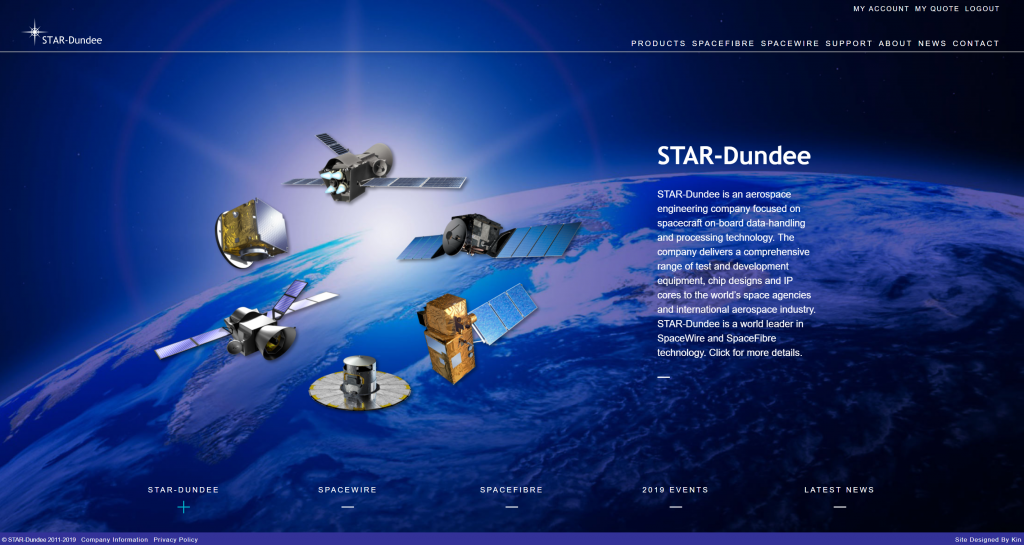 In conjunction with the release of the new website, we also plan to send out news update e-mails approximately every 6 months with information on the latest SpaceWire and SpaceFibre developments, and shorter e-mails to notify users of software and firmware updates for products they have previously registered on the website as these updates become available. If you have an account on our website, you can opt in or out of either of these e-mail types from your Account details page. If you don't have an account, you can register your products on the Product Registration page of the Support section of the website.
For anyone who had an account on our old website, this has been transferred over to the new site, although you will need to update your password. You can do this by selecting the Lost Your Password link on the My Account page.
All the features of the old site are present, with the updated Support section making it easier to navigate to Product Updates for STAR-Dundee products. There's also a dedicated page listing the events we will be attending this year if you'd like to meet us.