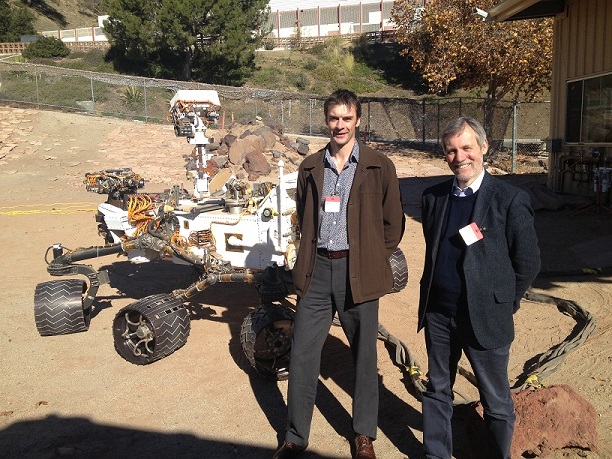 The Californian sun gave a welcome break from the snow left behind in Scotland during attendance of FSW-13 at CalTech and a visit to NASA's Jet Propulsion Labs.
The 2013 Workshop on Spacecraft Flight Software (FSW-13) was a very interesting insight into the hardware and software activity within the USA space community. The workshop provides an opportunity to present and discuss current spaceflight architectures, novel approaches to mission solutions, and techniques for flight software development, integration, test and verification.
Managing Director Steve Parkes presented 3 papers:
SpaceFibre: Multi-Gbits/s Network for Spaceflight Applications

AT6981 – A High Performance Processor for Space Applications

SpaceWire EGSE: Real-time instrument simulation in a day
The built-in features of both SpaceFibre and the AT6981 processor are hitting the right spots for the NASA next generation of spacecraft architecture.
SpaceFibre builds on the flight proven capability of SpaceWire by providing multi-gigabit network capability taking data rates to 2.5Gbits/s single channel and >20Gbits/s multi-channel whilst also greatly enhancing the fault tolerance and adding quality of service mechanisms. This aligns SpaceWire technologies as a serious proposition for future spacecraft data communications and mission critical applications.
The AT6981, a new SpaceWire enabled flight processor with SPARCv8 core, is currently being designed in partnership with Atmel. It provides mechanisms specifically designed to save on both CPU usage and power consumption. Three on-board SpaceWire interfaces use DMA engines to offload the data handling from the CPU returning valuable processing power to be applied to more mission critical and computationally demanding tasks. The ability of each of the functional blocks of the AT6981 to be selectively powered off within the core supports the move to reduce power consumption required by on-board equipment further meeting requirements designed to prolong the usable life of the spacecraft.
The SpaceWire EGSE has been proving to be a very useful time-saving device with the ability to create real-time hardware simulation of missing instrumentation in a matter of 1 or 2 days during system integration, and as a SpaceWire traffic generator as part of a development test suite or mission EGSE system.
There was a very interesting keynote speech by the creators of an autonomous ocean-going vehicle. They shared their experiences and specific problems encountered, including the use of satellite bandwidth .. at least we won't need to reroute cabling on satellites and rovers to avoid damage from great white sharks!
Information about the Workshops for Spaceflight Software can be found here.
All FSW-13 presentations were recorded and are available at the FSW-2013 Video Portal.