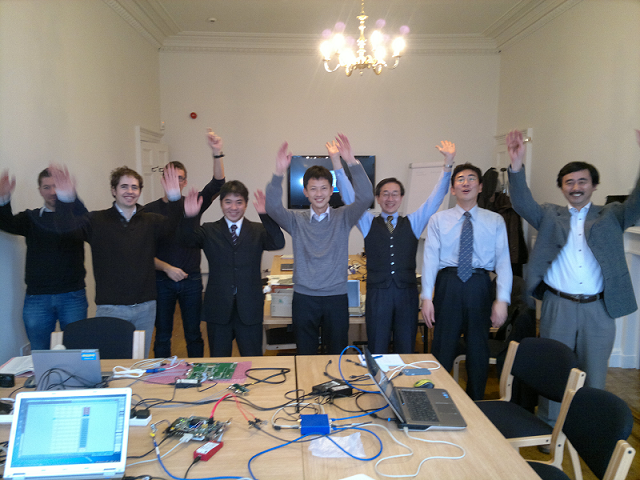 STAR-Dundee hosted a collaboration of engineers to validate a significant milestone in the SpaceFibre development.
A delegation of Engineers from NTSpace, NEC, MELCO and Osaka University travelled to STAR-House to join STAR-Dundee engineers to test and validate the interoperability of independent implementations of SpaceFibre CODEC IP cores. This milestone is a key turning point in the project and a significant step towards bringing gigabit data rates to satellites and spacecraft to meet the increasing demands of ever-more sophisticated technological advances of on-board instrumentation. The 10 fold increase in speed over the current SpaceWire standard still maintains the SpaceWire ethos of high reliability, low power and usability.
SpaceFibre is a very high-speed serial data-link being developed by the University of Dundee for ESA which is intended for use in data-handling networks for high data-rate payloads. SpaceFibre is able to operate over fibre-optic and copper cable and support data rates of 2 Gbit/s in the near future and up to 5 Gbit/s long-term. It aims to complement the capabilities of the widely used SpaceWire onboard networking standard: improving the data rate by a factor of 10, reducing the cable mass by a factor of four and providing galvanic isolation. Multi-laning improves the data-rate further to well over 20 Gbits/s.
SpaceFibre interface, SpaceWire to SpaceFibre Bridge, and SpaceFibre link analysis tools are available from STAR-Dundee Ltd.