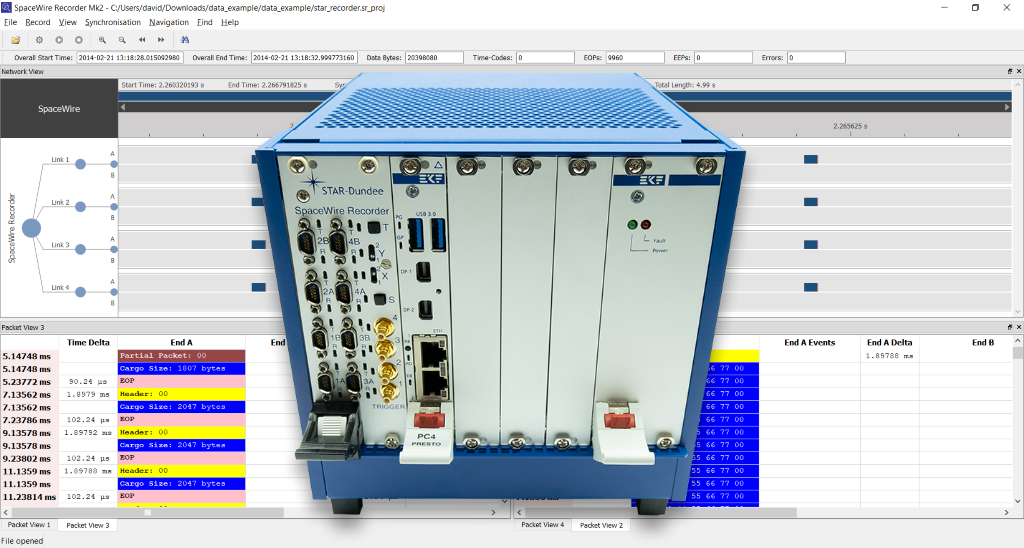 In order to validate and debug complete SpaceWire systems it is very useful to be able to record and view the traffic on multiple links. Thorough validation can also require very large quantities of SpaceWire traffic to be stored and analysed.
The SpaceWire Recorder Mk2 can record and display the SpaceWire traffic on up to four SpaceWire links. It records SpaceWire packets, time-codes and link errors to solid-state disk, along with time information, and then displays these in network and packet level views ready to be inspected. The quantity of data that can be recorded and viewed is limited only by the size of the solid-state disks used (960 GB).
Recording statistics provide a summary of recording contents and help highlight any concerns. Built-in search helps to validate and navigate recorded traffic. To help automate SpaceWire traffic validation, all or part of a recording can be exported to CSV formatted files and then easily interpreted by custom software.
More information about the SpaceWire Recorder Mk2 is available on the product page.