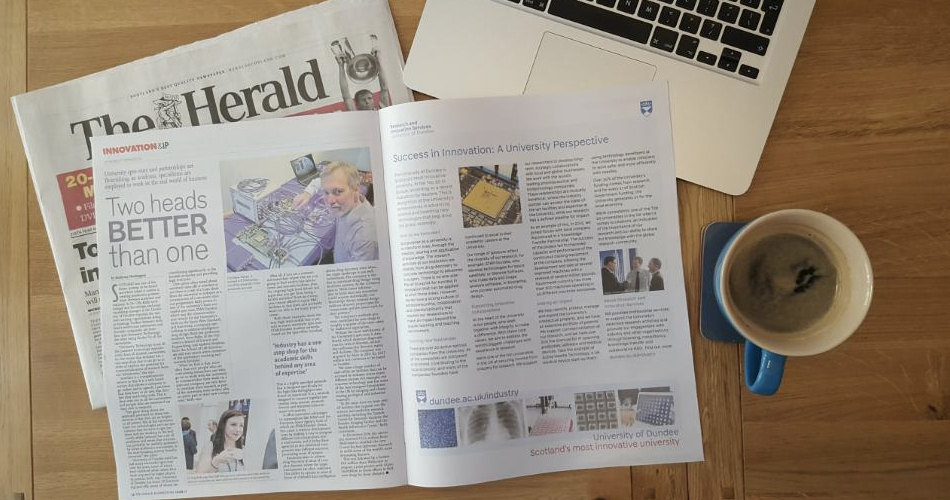 While STAR-Dundee has been very busy out and about at SEE/MAPLD, DASIA and UK Space Conference we have been in the local and national press.
As part of The University of Dundee 50 year celebrations STAR-Dundee was featured in The Courier on the 19th of May 2017.
The article written by Dundee University staff, Roddy Isles and Michael Alexander stated: 'Dundee has become an unlikely centre for space technology research and development – many of the satellites and shuttles launched into orbit have operate with SpaceWire circuitry designed and built here, the work of Professor Stephen Parkes and colleagues now commercialised in the shape of STAR-Dundee, a Courier Business of the Year.' In 2013 we were awarded Courier Business of the year.
Find out more about which space missions are using SpaceWire here: https://www.star-dundee.com/knowledge-base/missions-using-spacewire
On the same day we were highlighted as part of a feature on The University of Dundee Research and Innovation services within Herald Business HQ Innovation & IP Special Report.
The article on page 14 mentioned STAR-Dundee alongside fellow University of Dundee spin-out Exscientia:
'Kelly (Dr Orla Kelly) points to two of the most successful university spinouts; STAR-Dundee which was the commercialisation vehicle for the universities work on the SpaceWire Standard and Exscientia, a company specialising in artificial intelligence drug design.'
'STAR-Dundee markets networks based on the SpaceWire Standard. This is a highly specified network that is designed specifically for the high data-throughput rates found on spacecraft. It is a network designed to connect together processing units, sensors, memory devices and telemetry/telecommand sub-systems.It offers numerous advantages to organisations like NASA and the European Space Agency, both of which are STAR-Dundee clients.
For a start, it reduces development costs by making it easy to integrate different sub-components into a total system, and it helps these agencies to slot individual components into different mission promoting reuse of systems.'
Find out what STAR-Dundee has to offer on our products page: https://www.star-dundee.com/products
[Photo used with permission from The University of Dundee Research and Innovation services]