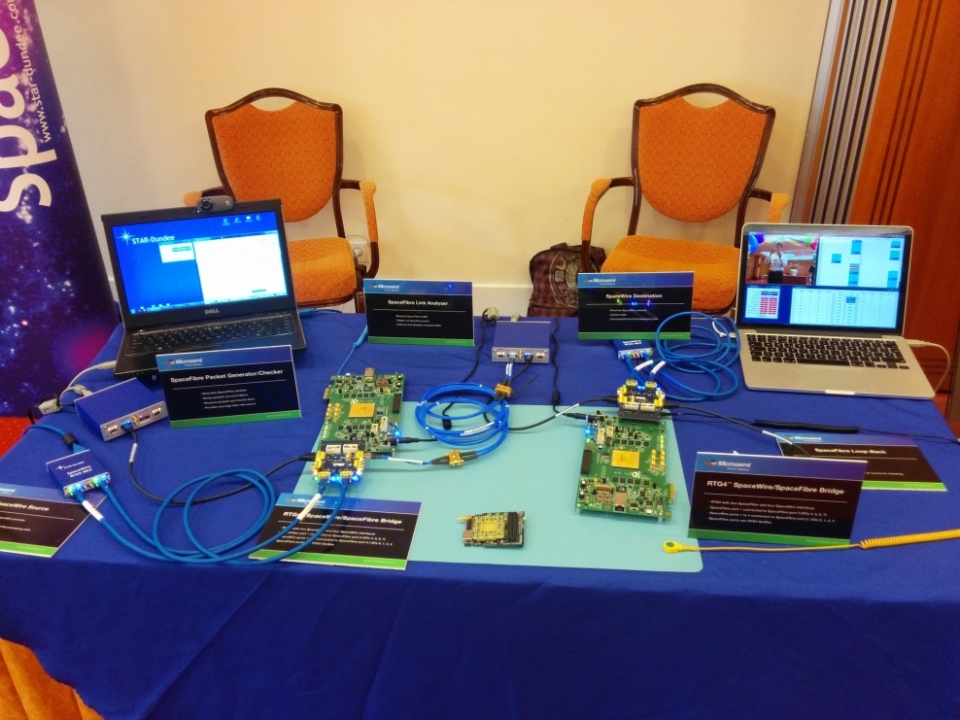 STAR-Dundee is delighted to be participating in each of the Microsemi Space Forum events taking place in the United States, Europe and India over the summer of 2015. At each event we are showcasing a demonstrator we've developed which includes both our SpaceWire IP Core and SpaceFibre IP Core running in the new Microsemi RTG4 radiation hardened FPGA family.
The demonstrator interconnects two RTG4 development boards each featuring a STAR-Dundee FMC daughterboard specifically designed for the RTG4 boards. Each FMC board features four SpaceWire ports and two SpaceFibre ports and an aggregate bandwidth in excess of 5 Gbps. Other STAR-Dundee products are also used in the demo, such as the STAR Fire unit and the new SpaceWire Brick Mk3. One STAR Fire unit is used in interface mode as a high speed SpaceFibre data generator (2.5 Gbps) sending and receiving data through the RTG4 boards to saturate the SpaceFibre link. Another STAR Fire unit is used in analyser mode to capture data travelling over SpaceFibre between the RTG4 boards. In parallel, one computer is used as a lower speed SpaceWire source, sending data in one direction to a remote computer. At the same time, this remote computer is sending a webcam video feed through SpaceWire back to the SpaceWire source PC. A SpaceWire Brick Mk3 is used by each computer to send and receive the SpaceWire packets to/from the RTG4 boards.
All the SpaceWire data packets (SpaceWire low data rate and webcam stream) are routed over SpaceFibre virtual channels. The rate at which these packets are transmitted is not affected by the STAR Fire high data rate packets as the bandwidth provided to a virtual channel can be configured in SpaceFibre. Thanks to its high speed together with its inbuilt Quality of Service (QoS) and Fault Detection and Isolation (FDIR) capabilities, SpaceFibre allows the reduction of system complexity, substantially reducing cable harness mass and simplifying redundancy strategies.
The embedded high-speed SerDes and the dedicated SpaceWire clock recovery circuits located inside the RTG4 FPGAs are used in the demonstration, proving that STAR-Dundee IP cores are fully compatible with Microsemi's new RTG4 technology.